New York in-house counsel meetup group
In-House Connect was originally founded in March, 2010, as a New York City based Meetup Group called the "New York In-House Counsel Meetup Group". The Group's original founder was Brian Greenberg. Brian wanted to create a platform where in-house counsel could network with each other, stay up to date with CLE's, and learn about emerging trends. Every month, a different NYC law firm would host the Group and provide a CLE presentation and a cocktail networking reception thereafter. The Group would also host cocktail networking receptions and holiday parties. Over the next decade, the New York In-House Counsel Meetup Group grew (mainly through word of mouth) to over 800 in-house counsel, and held over 100 events, helping hundreds of in-house counsel connect with peers, sharpen their skills, and advance their careers. 
In January 2015, Shai Mehani joined a tech startup as in-house counsel, and began to attend the Group's events. Shai loved attending the Group's events, and quickly became a regular attendee. After a year, Shai was invited to join the Group's leadership committee, and began to organize events and run the Group with Brian.
In 2019, in an effort to reach more in-house counsel, Brian and Shai decided to rebrand the group and migrate off Meetup. The group was reborn as "In-House Connect". In-House Connect continued to host monthly CLE programs, as well as fun and festive networking events.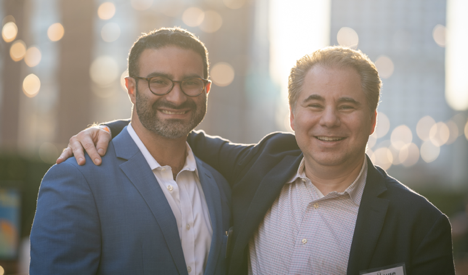 As we all know, in March 2020, COVID-19 put an end to in-person events for the foreseeable future. At that point, Brian decided to focus on work and family, and Shai took over In-House Connect.
Rather than letting In-House Connect be a victim of COVID-19, Shai reinvented In-House Connect as an online networking group for in-house counsel. Instead of meeting in person, In-House Connect organizes online meetings. Instead of cocktail networking receptions, we now organize virtual networking through virtual breakout rooms. Thus far, the transition has been fantastic, and In-House Connect has helped bring together in-house counsel from coast to coast and around the globe!
Post COVID-19
Once restrictions ease, and it's appropriate to do so, In-House Connect will start organizing in-person events once more. Stay tuned! 
For information on our prior events, click here. For information on our future events, click here. Interested in sponsoring an event? Click here to contact us.